Staffing services provide the advantage of flexibility.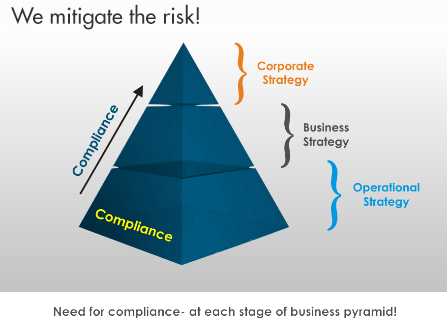 It is this advantage that also puts forward the complexity in managing requirements under multiple acts, regulations etc. within the stipulated time. As compliance requirements have increased globally, the complexity of the role of the legal function has advanced at a similar pace. Many things that are required to be done by a Legal and Regulatory officer require in-depth understanding of the business and up-to-date knowledge of the provisions of various applicable laws.
Our Services – Solutions That We Offer!
Obtain Registrations/Licenses and Renewal under Shop & Establishments Act, Factories Act, Profession Tax Act and Contract Labour Regulation & Abolition Act etc.
Vendor Compliance Audit: We will check whether your vendors are compliant with the provisions of applicable laws, as per agreed scope of audit.
Consulting Services: As the compliances vary from industry to industry, we can tell about the applicable compliances and assist you in abiding by the same as it could be differ from industry to industry. This service can be signed on for a specific period or on assignment basis.
Preparing & Filing of Challans and Returns of Statutory Payments on your behalf. We cover Shop & Estb. Act, Factories Act, EPF Act, ESIC Act, LWF Act, Min. Wages Act, Maternity Benefits Act, Payment of Wages Act, Bonus Act, Payment of Gratuity Act, Employment Exchange (compulsory notification) Act and Contract Labour Act etc.
Vetting and Drafting of legal documents All type of Agreements and Contracts (Business, Commercial, Lease, Employment related), LOIs, MOUs, NDA/Confidentiality, all employment related documents etc.
Audits and Inspections Our team of competent professionals can handle audits & inspections from authorities set up under various Labor Laws – on your behalf or can support your internal team/s to handle it successfully.
Seminars & Trainings you can use our expertise and have your concerned employees trained with the requisite skills to manage the labor laws compliances for your company and also for your service providers successfully.
Due diligence of legal documents in specific to commercial properties (to be bought or to be taken on lease).
Background Verifications: We cover previous employment, educational and police verifications.