PLAN YOUR LEADERSHIP JOURNEY
India's overall Female Workforce Participation rates which continue to hover at 20% have long been a much talked about area of concern for policymakers, government and economists alike. At the same time, another related challenge that needs to be addressed is the representation of women in leadership roles.
Gender parity at leadership level roles within Corporate India will not only pay a social dividend in the form of a more balanced and inclusive society, but diversity at leadership levels in corporate organizations has its own merit. Research clearly shows that diverse companies do better in the long run even financially and are more responsive and adapt better to changing market dynamics.
An increasing number of corporate organizations, both large and small, are realizing that there is an urgent need to boost the percentage of women in leadership roles, thereby improving gender parity at the leadership level. A recent study revealed that 44% of the companies polled had set a goal to increase female participation in leadership roles. Amongst these, it was the large enterprises that led the way with a massive 83% of them having the presence of a clear goal for increasing the number of women in leadership roles.
While there are several structural barriers affecting the overall participation of women in leadership roles like access to opportunities and mentors, societal and family pressure to retain work-life balance which at times discourage women from pursuing an ambitious career path, there are also individual factors at play which deter women from actively pursuing leadership opportunities.  Leadership potential and capability are gender-neutral but societal and behavioral biases present do pose some additional challenges for women leaders.
Some of the key factors which an organization can significantly play in their leadership journey are as follows:
Flexibility at work: One thing this pandemic has taught us is the value of work life balance, the more versatile role requires more agility from each individual. Promoting flexible work timings will definitely give more and more women to pursue their goals with regard to both personal and professional
Growth & Development programs: A leader is not born in one day, a lot of training and skill development goes into building professionals. An organization plays a very important role in shaping up the journey of an individual through skill and development trainings.
Technical Training: In addition to ensuring competency in domain/functional skills, a higher Technology Quotient is becoming a critical skill for every leader. Women will also need to step up their game on this front and this is true for women across the board not just those working in the tech or tech-enabled sector.
Therefore it's not enough for women to just believe in themselves but equally critical to come across as self-confident and be more proactive in showcasing their accomplishments.  They should embrace courage, resilience and try to find mentors who can help them. Last but the least, we must also pay it forward by mentoring and guiding other young women into their professional journey.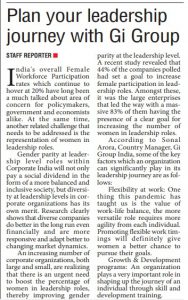 Click on the Link to read full story: https://www.dailypioneer.com/2022/state-editions/plan-your-leadership-journey-with-gi-group.html